Tab sig efter fødslen, hvordan? – Find hemmeligheden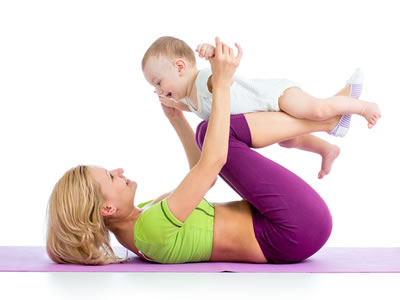 De fleste gravide kvinder har tænkt det; "Hvordan får jeg min kropsfigur tilbage efter jeg har født min nye guldklump?"
Du har muligheden for at finde hemmeligheden ved at tabe dig i denne artikel – Vær dog opmærksom på at alle kroppe har forskellige behov.
Tab dig først efter fødslen
Det er vigtigt at du ikke går på kur i løbet af din graviditet – Det er normalt at tage meget på i den periode og det kræver en læges henvisning, for at kunne gå på kur.
Det samme gælder hvis du ammer. At amme er hårdt for kroppen og tager meget på kvindens energi og kroppen har derfor godt af at have fedt den vil kunne tage af. Derudover, vil alle affaldsstofferne fra det fedt du brænder af i en løbetur havne i modermælken – Og direkte ind i barnets krop.
Ofte vil nogle mennesker også smide nogle kilo når de ammer og en kur til dem er slet ikke behøvet.
Vær opmærksom på at det kan tage 3 måneder før maven er kommet på plads. Ifølge statistikker fra blandt andet Hvidovre Hospital tager det dog meget længere tid for de fleste.
Spis sundt
Det er vigtigt at du spiser sundt, og du vil herunder kunne finde hurtige og nemme tricks til det. Det kan være hårdt for kroppen hvis du tager alle disse råd og starter i morgen – Mit forslag ville være at du i stedet tog en af gangen.
Spis stabilt – Det er vigtigt at du spiser tre hovedmåltider – morgenmad, frokost og aftensmad – i løbet af en dag. Til at supplere hovedmåltiderne skal du spise 2 eller 3 mellemmåltider.
Massere af fiber – Det er vigtigt at din krop får massere af fiber. Bønner har især gode kostfibre i sig og ville være perfekt til hvert eneste måltid. Derudover er diverse som fuldkornsbrød, groft knækbrød, fuldkornspasta og brune ris også fyldt med gode kostfibre.
Skru ned for mættet fedt – Mættet fedt er noget af det mest usunde du kan få fat i. Vælg derfor magert på produkter hvor konsistensen af mættet fedt er høj. Vil du have kød og kødpålæg vil det være optimalt at tjekke om det indeholder 5 gram Fedt pr. 100 gram. Er det over dette, vil der for ofte være for meget mættet fedt i. – Det samme gælder med mælkeprodukter. Er der over 1,5 gram fedt pr. 100 gram er det for meget.
Stop det usunde – I løbet af en graviditet bliver kvinder meget lækkersulten. Småkager, sodavand og alt det andet har nok taget lidt overhånd – Det må vi alle indrømme. Men vil du tabe dig efter fødslen er en af nøglerne at stoppe med dette, selvom det kan være svært. Start med at begræns det i en uges tid, for derefter at stoppe helt. Vær opmærksom på at produkter som saftevand og juice også har højt sukkerindhold.
Husk at træn
Når du har fået madvanerne på plads, kan vi komme i gang med at træne. Det tager en del længere tid at tabe sig uden træning.
Kig derfor i din kalender og find tre gange om ugen du har mulighed for at træne i – Din træning behøver ikke være overdreven, da en løbetur eller et spil fodbold også kan gøre det. Træningen skal dog gennemføres helt!
Det er dog vigtigt at du starter let ud, hvilket kan gøres med en simpel maveøvelse.
Øvelse 1: Stå på hænder og knæ mens du holder nakken og ryg helt lige. Knib og træk maven ind mens ryggen stadig står helt lige (Den må ikke rykke sig!). Hold det i 5-10 sekunder, slap derefter af i maven – Og gentag 10-20 gange.
Øvelse 2: Stå på hænder og knæ mens du holder nakken og ryg helt lige. Løft derefter en arm frem, langsomt, mens kroppen fortsat holdes stille. Sænk herefter armen langsomt igen. Gentag ca. 10 gange – Husk at skift arm.
Øvelse 3: Lig på ryggen mens du har bøjede knæ. Hold derefter ryggen lige og læg hænderne under lænden. Knib og trak maven ind i 5-10 sekunder. Lænden må ikke blive presset mod hænderne! Gentag 10-20 gange.
Når maven er kommet på plads, så er det bagdelens tid:
Øvelse 1: Lig på ryggen med bøjede knæ og 5-10 cm mellem hver fod. Løft herefter bagdelen så højt op, at krop og lår udgør en lige linie.
Øvelse 2: Lig på side og bøj det nederste ben frem foran kroppen. Læg derefter en hånd ind under taljen og sørg for, at der hele tiden er plads til hånden under øvelsen, så kroppen holdes helt lige. Så skal det øverste bens fod pege fremad eller lidt nedad hele tiden. Løft benet langsomt op og ned 10 gange, og gentag med det modsatte ben.
Held og lykke med din nye krop.